Only about 4% of the world's oceans are protected, and the vast majority of existing marine parks and reserves are either poorly managed, or not looked after at all.

And yet, from maintaining sources of food to helping protect shorelines, and from protecting biodiversity to providing income and jobs, Marine Protected Areas can achieve so much.

This is why WWF is investing major efforts into expanding them and managing them better.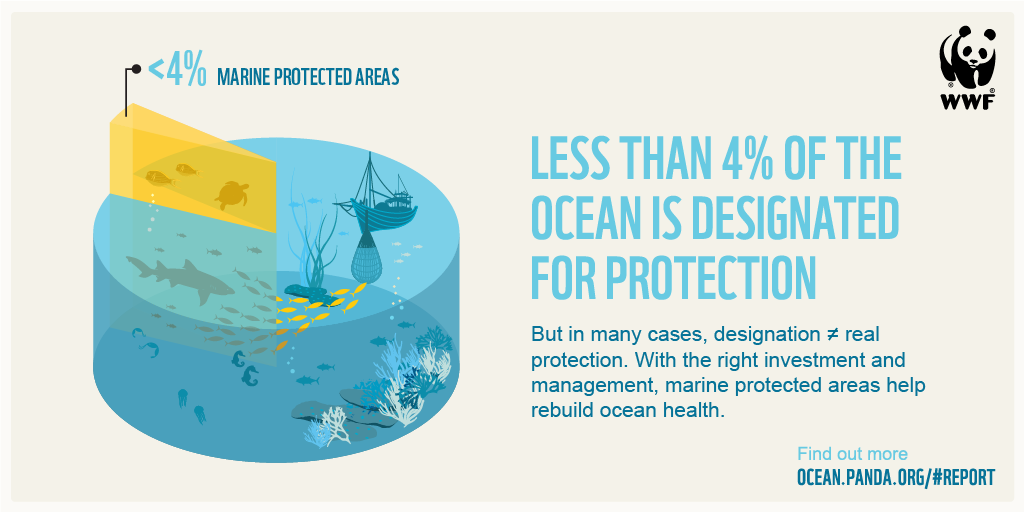 The term Marine Protected Areas include marine reserves, fully protected marine areas, no-take zones, marine sanctuaries, ocean sanctuaries, marine parks, locally managed marine areas, to name a few. Many of these have quite different levels of protection, and the range of activities allowed or prohibited within their boundaries varies considerably too.

WWF uses the term Marine Protected Area as an overarching description of:

An area designated and effectively managed to protect marine ecosystems, processes, habitats, and species, which can contribute to the restoration and replenishment of resources for social, economic, and cultural enrichment.
Why do we need Marine Protected Areas?
Never in the history of humanity has the health of the oceans been more threatened, and more important to our wellbeing.

The costly decline of ocean health impacts people, such as fishermen struggling to feed their family, and is made worse by the disastrous effects of climate change.

We need more Marine Protected Areas in the "right places" – where the conservation need is most urgent and where the potential for their contribution, for both humans and wildlife, at its highest.

With well-designed and managed Marine Protected Areas, and especially networks of such areas, we can boost the health of ecosystems and even turn around the downward trends of marine biodiversity.
WWF & Marine Protected Areas
WWF works all around the world to make sure that critical habitats in our 14 priority places (see map) are protected and restored and continue to provide multiple benefits to people and livelihoods.

It is in those places that we are applying our know-how on Marine Protected Areas, building on traditional knowledge, to make sure that they meet people's needs for generations to come.
NEW REPORT
Find out why Marine Protected Areas are worth investing in the WWF report Marine Protected Areas: Smart Investments in Ocean Health ►
WHAT ARE THE BENEFITS OF MARINE PROTECTED AREAS?
Maintaining biodiversity and providing refuges for endangered and commercial species

Protecting critical habitats from damage by destructive fishing practices and other human activities and allowing them to recover

Providing areas where fish are able to reproduce, spawn and grow to their adult size

Increasing fish catches (both size and quantity) in surrounding fishing grounds

Building resilience to protect against damaging external impacts, such as climate change

Helping to maintain local cultures, economies, and livelihoods which are intricately linked to the marine environment
Find out why Marine Protected Areas are worth investing in the WWF report Marine Protected Areas: Smart Investments in Ocean Health ►

Marine Protected Areas provide benefits to artisanal fishermen in the Mediterranean
Article written for WWF website https://wwf.panda.org/our_work/oceans/solutions/protection/protected_areas/